Posts
A Uniting of Hearts and Families
Tuesday, May 25, 2021 by Rosie J. Williams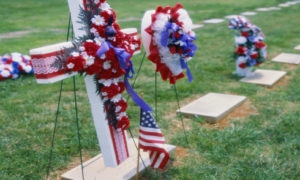 I think that's her, Verlin said. Tony agreed and the two of them intently watched the lady on the other side of the banquet hall. Just then, Steve sat down at their table. "No, that's not her, I just met Susan, and there she is, standing over there with her husband". Everyone at the table turned to see the woman they had wondered about ever since they heard she was going to be at the military reunion that year.
Emotions were running wild with these three Nam vets who were with Sue's brother when he had died in Viet Nam years before. The survivor's guilt that had haunted all three of these guys was at it's highest at the banquet put on to honor the families of those from their unit killed in action. Although nothing could have been done to save Richard (Sue's brother), all three of these veterans wished with every fiber of their being that they could have done more!
It was on memorial day that Sue's first connections with her brother's comrades began. She had gone to the cemetery to place flowers on her parent's graves, but found herself standing in front of Richard's grave stone, admiring the beautiful wreath and wondering who had left it there. She bent down to see the note attached with a website address… "given in remembrance by the Curahees, 3rd of the 506, 101st Airborne Division, to Richard Burgess, from your band of brothers". It was through contacting the website and reunion organizer Jerry Berry that Sue found out about the upcoming reunion and the desire to honor the families of those from the unit that had been killed in action.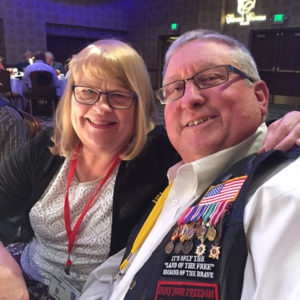 After pushing their food around their plates for awhile, the guys decided to get up and go introduce themselves to Sue. I watched, along with the other wives, as they went over to Sue's table. She and her husband immediately stood up, and we watched with tears in our eyes, observing this very sacred moment as the five put their arms around each other and huddled together talking, sharing missing pieces of information and answering years of unspoken questions.
It was just recently that Sue's nieces and nephews had begun to inquire about their uncle who had been killed years before they were born. It was later that evening that Sue went to her room to email her siblings and other family members, telling them what she had learned.
Something happened that night. It was the healing of invisible wounds carried by many. Sue and her family gained a roomful of brothers that night, and the vets gained a sister who graciously received them into her family as new brothers and friends.
I Peter 3:8 (NLT)
Finally, all of you should be of one mind. Sympathize with each other. Love each other as brothers and sisters. Be tenderhearted, and keep a humble attitude.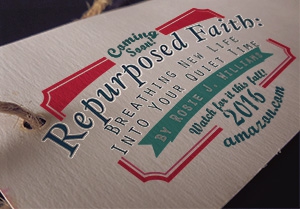 ---