Posts
JUST A PIECE OF METAL
Friday, January 22, 2016 by By guest writer, Karolyn Roles, from Topeka, Kansas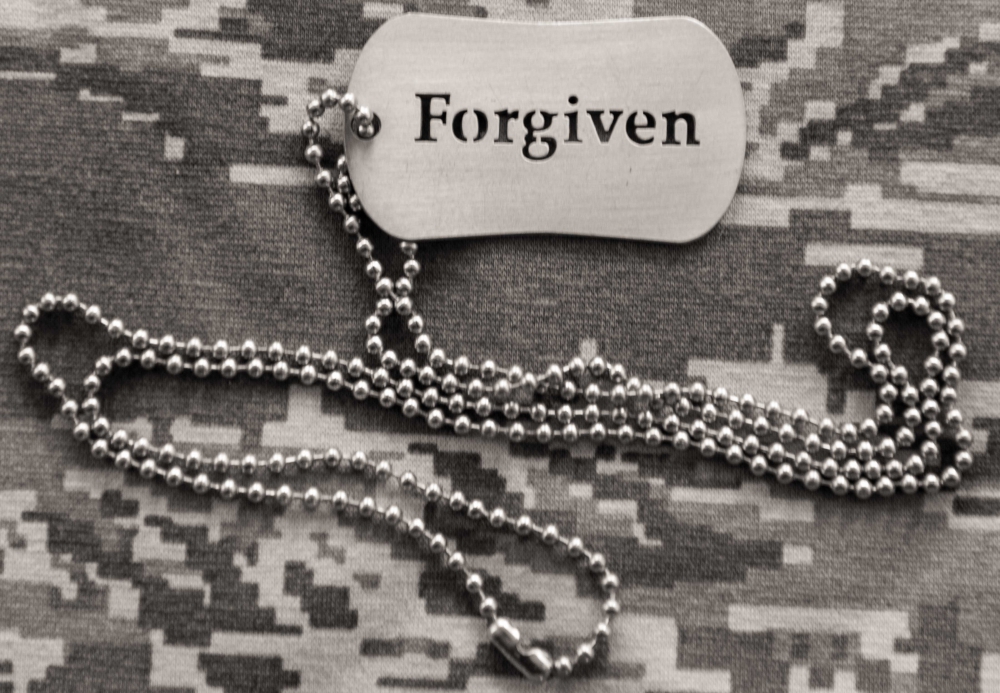 It was just a piece of metal on a chain with a word punched in it. He was a 6'3", 275-pound man with a full bushy beard and long wild hair. The men in the VA Stress Disorder Treatment Program called him "Grizzly Adams" … it fit!
My husband and I have been Outpost leaders for a program called Point Man International Ministries for over twenty years and each Tuesday, for 19 of those years, we've had veterans from this program to our house for a home cooked "Welcome Home" meal.
His first time over for supper, I greeted him, asked his name, "Ben" he said. "Ben are you huggable?" He looked at me with squinty eyes and said "Yeah". It was a sight to behold, as I stretched all of my 5'3" frame to hug him. Then a tiny grin appeared on his lips, it quickly vanished. He and I connected over the next 6 Tuesday's. Each week I watched him soften a bit. After being treated for his PTSD, it was time for him to graduate from the program. We don't ask the veterans about their traumas and seldom know of their past. Our wish is to show hospitality and unconditional love and acceptance, hopefully the way Jesus would.
His last evening with us gave me the opportunity to give him a new dog tag. I pulled out my step stool so I could reach him and he laughed. Standing on my stool I said, "Ben, the military gave you a dog tag once that said who you were… it gave basic information about you. I have a new dog tag for you. It covers the past, the present, and the future. It takes care of those things we have done or should have done, said or didn't say. It's who Jesus says you are, it's a gift that cannot be forced upon you. Will you accept it?" He humbly replied "Yes".
After I placed the tag around his neck, I cupped it in my hand; I looked into his eyes and said, "This represents God's amnesty." He nodded, tucked his head, clenched the tag at his chest and went outside. After a few minutes, one of our Point Man crew eased out to check on him. He asked Ben if he had some sand in his eyes. Ben replied, "No, I'm just out here bawlin! When that little lady said I had amnesty, I just couldn't hold it any longer." Punched into that little piece of metal was the word Forgiven.
---