Saver to Serve
When You Don't Feel Like a Real Vet
Tuesday, August 8, 2023 by Rosie Williams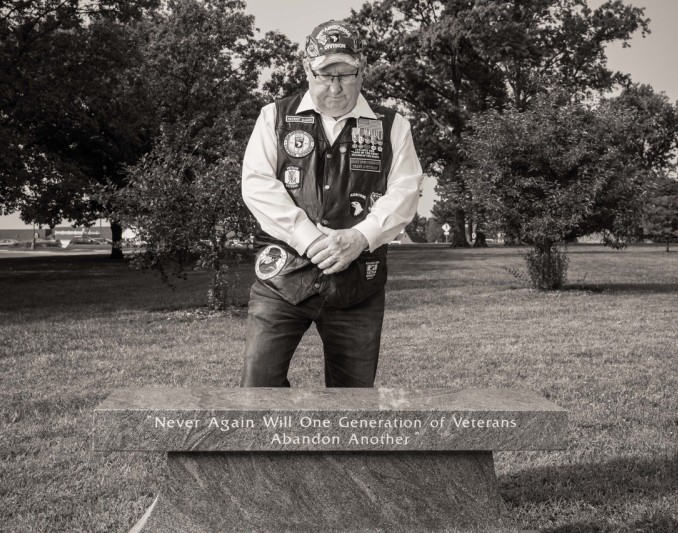 I listened with a deep sense of sorrow as my veteran friend shared that when he got back from the war, he threw his medals into the sea. He tried to bury years of experience in the military by denying it ever happened. No matter how hard he tried to sling away his past, it was still there. There was no escaping the sting of bitterness that lurked in his heart.
When Veterans Day rolls around, you won't see this guy. He's probably gone fishing, or anywhere other than where veterans are being honored, because for a myriad of reasons, he doesn't feel included in the "band of brothers". And he doesn't come close to feeling like a hero.
For years, when veterans were asked to rise and be honored at a public event, my friend Debbie was hesitant to stand. She had discounted her years in the military during the Vietnam era. Afterall, she was stateside working in finance. She didn't see herself as a real vet. Something changed for Debbie the day my Nam vet husband reminded her that those administrative jobs were vitally important to the military as a whole and to him personally. When Steve asked if he could give her a forgiven dog tag, she stood at attention and received it with tears as he said, "you're one of us"!
It happens all the time in the military community. Active military personnel and veterans alike fall into the trap of comparisons, and in doing so devalue the service they provide. No amount of "Thank you for your service" offered by grateful Americans changes the critical self-image and negative thoughts inside.
One disability is not as great as another and so it is dismissed.
One vet's lifelong dream to fight for his country gets cut short when last minute orders shatter his dream.
An infantryman feels inferior to an officer and undeserving of a medal.
A soldier's deployment was cut short due to injury, and he thinks he has abandoned his comrades and doesn't deserve recognition.
One soldier gets sent to do paperwork in the comfort of the back office and another gets sent to Nam. The first guy never wears his Army hat.
One vet devalues another by saying you are not a "real veteran" if you weren't in combat…friendly fire!

Spiritual Readiness
But, what if…
What if you realized that God had a specific plan for you all along?
He goes behind and before you. He has a reason why he allowed certain things to happen as they did. What if you laid down your own plans or shattered dreams and submitted to His? Instead of "yes but", say "yes sir" to your "commanding officer".

"For I know the plans I have for you", declares the Lord, "plans to prosper you and not to harm you, plans to give you a hope and a future" Jer. 29:11


What if you prayed and asked God to heal you of any hidden wounds?
God promises to give us peace, and that includes your past.

"and your feet fitted with the readiness that comes from the gospel of peace" Ephesians 6:15


What if you had a light bulb moment when you realized that your core identity is not what you do or have done, but who Christ is and what He has done?

"Think about the things of heaven, not the things of earth. For you died to this life, and your real life is hidden with Christ in God". Colossians 3:2-3


What if you decided to ask God how your specialized training and understanding of military issues could be used to serve your fellow vets?
Perhaps you were saved to serve!

"Each of you should use whatever gift you have received to serve others"
I Peter 4:10


What if when someone says, "thank you for your service", and you graciously said, "thank you" or "you were worth it"?
Remember, fellow veterans a few years back were not only denied a warm welcome home but were spit upon or verbally assaulted. Accept appreciation on their behalf, no matter if the words hit you wrong. See the motive behind the words of appreciation.

"I thank my God every time I remember you" Philippians 1:3


What if you saw the value in your military job?
If paychecks weren't cut, soldiers in the field could not support their families back home. If army boots weren't made (shout out to my friend Tony Pleviak), soldiers couldn't trapse through difficult terrain.

"Whatever you do, work at it with all your heart, as working for the Lord, not human masters", Colossians 3:23


What if you were proud of the sacrifices you did make?
You gave years of your life to serve our country, often away from family and giving up or delaying your own plans. My pastor once said, "don't think too much of yourself, but don't think too little of yourself".

"Believers in humble circumstances ought to take pride in their high position" James 1:9


What if you really didn't do a good job in the military? Perhaps you have done things you are ashamed of and feel you have done too much to be forgiven or to be honored. News flash!
We all stand in need of forgiveness and God offers it to you freely. He can change your shame into new chances, filled with grace and leading you to a place of peace.

"If we confess our sins, he is faithful and just to forgive us our sins and purify us from all unrighteousness" I John 1:9

"wash me and I will be whiter than snow". Ps. 51:7 (b)

Wow, purification and cleansing is found at the cross of Jesus Christ.


The next time you feel hesitant to be identified as a veteran, give yourself and atta-boy or atta-girl for your time in the service. It is a part of your unique life experience that God can use in a greater mission.

"Join with me in suffering, like a good soldier of Christ Jesus"
2 Timothy 2:3 (NIV)
---
Ron From KS At 9/26/2023 5:19:10 AM
This is a nice place with nice people and nice food to share. Having a nice place is nice. The set up is very nice and the church people that help are very nice. It is very nice to find such a nice organization with so may nice things and nice times. Rev Ronald Grossman
Reply by: Point Man International Ministries of Kansas
Thank you Ronald